A MILLENIAL MISSION
Decades before the advent of welfare, Medicaid, food stamps and other governmental programs, a few dedicated Free Methodist women evangelists responded with Christian concern to the plight of women and girls who had been betrayed and abandoned by society - unwed pregnant girls. In 1900, these ladies garnered the support of leading Oklahomans, including the Territorial Secretary (later Territorial Governor) William M. Jenkins and his wife, to form an Oklahoma corporation, the first organization in the state established to minister to these unwed mothers and their babies.
The Oklahoma Rescue Home, (subsequent name changes were the Holmes Home of Redeeming Love, the Home of Redeeming Love and Deaconess Home), broadened its vision by moving from Guthrie to its current location in Oklahoma City in 1910. It was a giant step for this mission of faith that functioned without any government, church or institutional support, and grew despite severe financial struggles. The ladies and their staff sacrificed unstintingly, often without pay, and personally solicited gifts to sustain their work. They farmed their 40 acres in Oklahoma City and lived off the farm products. They even attempted to sell spring water to sustain their ministry, which soon expanded to include a Deaconess training program, nurses' training, and a residence for elderly, needy women. But the focus of their love remained the "unwed mothers" and the women lived out their commitment that the Home was a place, "Where the light always burns." No one was turned away.
A free standing hospital facility to provide pregnancy care and meet other medical needs of the patients was a natural outgrowth of the Home's mission. In 1931, the first medical facility in northwest Oklahoma City (22 beds) was constructed and later expanded to 45 beds. With modest facilities and limited finances, the medical facility became a general hospital named Deaconess Hospital in 1944. Thereupon began a long history of growth and pioneering in the very latest medical innovations, including the first Oklahoma hospital specifically dedicated to family practice medicine, the first intensive care unit in Oklahoma, the first outpatient surgery center in Oklahoma, the first remote monitoring of EKG's, the first senior diagnostic psychiatric facility, the first lithotripsy facility in western Oklahoma, and the first Oklahoma City hospital to open a single birthing room unit. Deaconess Hospital has now entered the 21st century with excellent facilities, staff and physicians, dedicated to superb patient care in an atmosphere of Christian warmth and caring.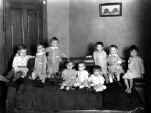 The history of the first century of Deaconess is interwoven with the family of Anna L. Witteman. Although the vital contributions of early heroines such as Lydia Newberry, Pearl Holmes, Grace Allen and others were essential to the formation and early life of the Home, they were later called to other ministries. Anna L. Witteman remained the superintendent of the Home and later the first administrator of Deaconess Hospital from 1901 to 1951, spanning half of the 20th century. She was honored by being inducted into the Oklahoma Hall of Fame in 1938. She relinquished her position to her nephew, Ralph E. Butterfield, who served with his wife, Gladys, who became home superintendent, until their retirement in July 1975. Under his wise and spiritual leadership, expansion projects like the critical care unit, a new Home facility, the outpatient surgery facility and two additions were completed, increasing capacity from 45 to 177 inpatient beds.
Mr. Butterfield was succeeded by his son-in-law, Melvin J. Spencer, who served as administrator until January 1992. During his tenure, major progress included the lithotripsy facility, radiation oncology, the senior diagnostic center, Copper Lake retirement facility, two physician's office buildings and an increase in capacity to 250 beds.
The leadership and vision of the board of directors and chief executive officers, John Ellis (1) and Paul Dougherty (1996 to present) are responsible for the major recent advancements at Deaconess Hospital. The fundamental commitment of the board to maintain the distinctively Christian character of all aspects of Deaconess care in the future has led the board to resist all efforts to consolidate with or sell to other health care entities. Deaconess remains the only health care facility in greater Oklahoma City that is not affiliated with or part of some other health care entity.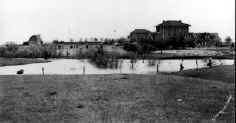 Today, Deaconess treats patients from all parts of Oklahoma and beyond in inpatient, outpatient and emergency settings. Services are also provided in physician offices, clinics and inpatient settings in Oklahoma City and Bethany. Virtually every major medical, surgical, obstetrical, gynecological and psychiatric service is offered. New programs joining the Deaconess Home) have been added such as the Wound Care Center, the Open Arms Free Clinic and outreach laboratory and radiology services. The 21st century sees Deaconess prepared for the future with the introduction of a convenient medical mall with services patients need most located within close proximity. Major remodeling throughout the hospital and the new Deaconess at Bethany facility for mental health services have increased the licensed bed size to 313.
Deaconess has grown from humble origins, evolving into a major health care provider. The organization is firmly committed to its unchanging mission bringing to bear on the physical, mental and spiritual needs of all who seek healing from its excellent care and facilities, and, above all, genuine Christian compassion and love. The heart and soul of Deaconess continues to be lived out in the lives of those employees who serve their fellow Oklahomans faithfully.
Among Oklahoma City hospitals, Deaconess was the first to: